World drone racing championship won by Australian teenager

Australia Australia World drone racing championship won by Australian teenager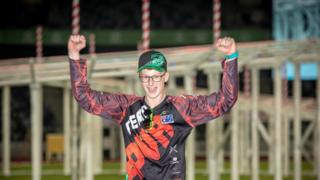 A 15-year-old Australian boy has been crowned overall champion at the FAI Drone Racing World Championships.
Rudi Browning beat more than 120 competitors at the event run by the World Air Sports Federation (FAI) in Shenzhen, China.
His success also helped the Australian team win the group title ahead of Sweden and South Korea.
An 11-year-old racer from Thailand, Wanraya Wannapong, won the the women's title.
In drone racing, participants steer crafts at high speed around a race course with obstacles.
Pilots control the drones through special headgear connected to their craft's cameras.
Mr Browning beat three other p ilots in a final on Sunday to win the gold medal for overall champion. He also received a $24,000 (£18,000) cash prize.
"I'm still shaking actually. I have had a lot of ups and downs in races, like everyone, and this is definitely one massive high," he said after the race, according to a statement from the FAI.
Drone racer: 'It's like flying a jet'
The dizzying, high-speed world of drone racing
Drone light show in China breaks world record
Wanraya Wannapong was one of 13 female contestants in the competition and had been coached by her father.
"I fly every day, and all day when I am not at school," Miss Wannapong said in a statement.
Drone racing is a one of the world's fastest growing sports, says the FAI. There are a number of different competitions staged around the world.
Broadcasters ESPN and Sky also televise the US-based Drone Racing League, a professional division.
Races for the inaugural FAI Drone Racing World Championships were streamed online and broadcast across China's Tencent network.
Top Stories
US sanctions on Iran come into force
The Trump administration brings back sanctions on Iran, targeting banking, oil and shipping.
5 November 2018
First caravan migrants reach Mexico City
5 November 2018
Xi pledges to cut Chinese import tariffs
5 November 2018
Features
Does sex addiction really exist?
Video
Last match at Sri Lanka's iconic stadium?
The ordinary people making the world more right wing
Video
Why do so many Americans not vote?
Four things to know for the week ahead
The artists tackling body dysmorphia
Kenyans cash in on avocado craze
Can we tell yet if the Democrats will win?
Is China burdening Africa with debt?
Elsewhere on the BBC
Football phrases
15 sayings from around the world
Full article Football phrases Why you can trust BBC News
BBC News Services
On your mobile
On your connected tv
Get news alerts
Contact BBC News
Source:
Google Australia
|
Netizen 24 Australia