Virgin Australia priority boarding for veterans derided by defence association

Australian defence force Virgin Australia priority boarding for veterans derided by defence association
Veteran lobby group says restoring airline service discount would be better than public thanks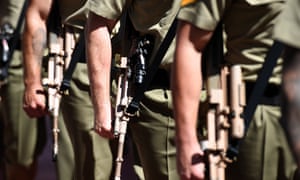 A move by Virgin to give priority boarding to veterans and thank them publicly fo r their service has been derided by the Australia Defence Association (ADA) as lacking commonsense.
The chief executive of Virgin Australia, John Borghetti, said on Sunday veterans would be able to present the new veterans' card and lapel pin previously announced by the government and receive priority boarding and recognition on board.
The prime minister, Scott Morrision, and the defence industry minister, Steven Ciobo, have welcomed the move but the ADA said "it would be better to improve the practical assistance veterans need rather than increase tokenism".
The ADA is an advocacy group that works on veterans, defence and security issues. Its executive director, Neil James, said the announcement was a symptom of a larger problem, which was that "the average Australian no longer understands military war".
"In previous eras, most Australians would have someone with military service in their family and they would have realised this wasn't a co mmonsense idea," he said.
"A commonsense idea would have been providing assistance like restoring the service discount that used to apply on domestic airlines up to the early 1980s."
Virgin Australia announces US-style plan to honour veterans on every flight Read more
He said the US-style of publicly thanking veterans for their service would not necessarily translate well to Australia.
"There's a fine line between embarrassing them and thanking them and, in some cases, where they're suffering a psychological illness, effusively thanking them in public might not necessarily help them," he said.
On Channel Seven's Sunrise on Monday, Pauline Hanson said she was concerned veterans would not want to be publicly acknowledge by the airline.
"I have worked with veterans and I think they would find it embarrassing," she said. "I think it is a marketing ploy by Virgin. I don't think veterans want to use priority boardin g."
Crossbench senator Derryn Hinch told the program he agreed.
"A lot of veterans don't want to draw that sort of attention," he said.
Topics
Virgin Australia
Airline industry
Australian politics
Business (Australia)
news
Share on Facebook
Share on Twitter
Share via Email
Share on LinkedIn
Share on Pinterest
Share on Google+
Share on WhatsApp
Share on Messenger
Source:
Google Australia
|
Netizen 24 Australia