Usain Bolt leaves Australia's Central Coast Mariners football club

Australia Australia Usain Bolt leaves Australia's Central Coast Mariners football club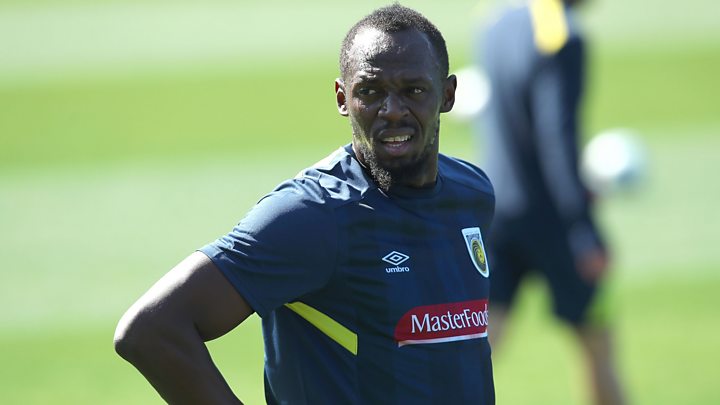 Usain Bolt's trial with Australian football club Central Coast Mariners has come to an end.
The Jamaican eight-time Olympic sprint champion, 32, joined the A-League side for an "indefinite training period" in August.
He scored two goals in his first effort for the Mariners in a friendly, but did not play matches when the season began.
Efforts to secure a "commercial solution" to keep Bolt at the club had failed, the Mariners said on Friday.
Last month, the Mariners said they had made a contract proposal broken down into "football" and "commercial" terms. However, it hinged on a contribution from a "third party".
Despite meetings with "several promising potential partners" no deal could be reached, the club said.
'Bolt has a touch like a trampoline'
Mariners owner Mike Charlesworth thanked Bolt for his eight-week trial, describing it as a success.
"He integrated very well into the team and made great strides as a footballer," Mr Charlesworth said.
The 100m and 200m world record holder has described it as his "dream" to play professional football.
"I would like to thank the Central Coast Mariners owners, management, staff, players and fans for making me feel so welcome during my time there," he said on Friday.
Bolt, who retired from athletics in 2017, has previously trained with Borussia Dortmund, South African club Mamelodi Sundowns and Norway's Stromsgodset.
Top Stories
Saudi prince 'said Khashoggi was dangerous'
Mohammed bin Salman reportedly told US officials the writer had been a member of an Islamist group.
2 November 2018
Apple loses its $1tn crown as shares fall
1 November 2018
A gloves-off fight that defines US election
1 November 2018
Features
An ugly, gloves-off fight that defines US election
Pride and Passion: Jane Austen novels the Brazilian way
Video
Think the US election's fixed? Blame him
A kidnapped girl, a skeleton and a house of memories
How US employers silence sex accusers
Video
'I shot him right in the butt': I invented paintball
BBC Future: The bizarre material made from fungus and sweat
Video
The jockeys who switch horses mid-race
Quiz of the Week: Who told Trump to stop the music?
Elsewhere on the BBC
Football phrases
15 sayings from around the world
Full article Football phrases Why you can trust BBC News
BBC News Services
On your mobile
On your connected tv
Get news alerts
Contact BBC News
Source:
Google Australia
|
Netizen 24 Australia