Taylor resigns from Cricket Australia board as turmoil continues

Advertisement
Former Test captain Mark Taylor has resigned from the board of Cricket Australia.
Four days after chairman David Peever quit, Taylor is the latest to vacate his position as the fallout from the release of a damning report into CA's culture continues.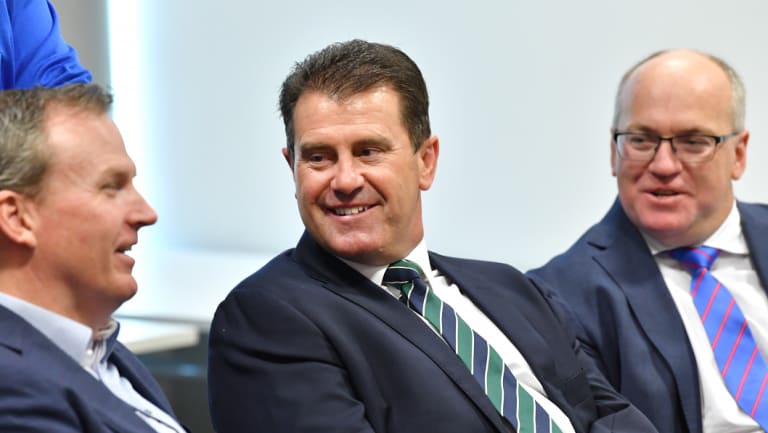 Taylor was one of two former Test cricketers serving on the board, alongside Michael Kasprowicz, and the exit of him and Peever means there are now only seven directors, with two spaces left to fill including a new chairman.
Taylor has long found it challenging to juggle the commitments of being a senior CA official with his work as a commentator and cricket expert on Channel 9.
Advertisement
"I reached this decision after a lot of soul searching over the last week or two. I really have appreciated serving the game at the peak level and it's given me an opportunity to give back to this great game of cricket," Taylor said.
"I had an opportunity to put my name forward as a chairman or to step off. I think I've made the right move in the interest of Australian cricket to step off, to give some other former Australian cricketer hopefully to bring some new ideas."
He made a series of forthright comments during an appearance on Nine's Sports Sunday program on Sunday including taking aim at the Australian Cricketers' Association over its campaign to release Steve Smith, David Warner and Cameron Smith from bans forced upon them after the ball tampering crisis erupted in South Afr ica in March.
Taylor was also asked on program whether it was "ludicrous" to reappoint Peever for a further three years, as had occurred the CA annual general meeting on October 25. He replied: "In hindsight, yes.
States led by Cricket NSW had been angered that they had not been shown a copy of the Longstaff report before voting on the chairman's new term at the AGM. Peever then fell on his sword last Thursday after being informed by Cricket NSW chairman John Knox that he no longer had the support of his board.
"I don't think there is anything too scurrilous about the timing of the report, I'm on the subcommittee," Taylor said on Sports Sunday.
"[But] it would have been better pushing the AGM back a week to give the states and everyone a chance to have their say, get it out there and then say [to Peever] do you want to re-apply?"
Taylor had disagreed with comments made by another former Test captain and Nine commentato r, Ian Chappell, who described the presence of ex-cricketers on the board as "window dressing".
MORE TO COME
License this article
Ball tampering
Australia
Cricket Australia
David Peever
Chris Barrett
Chris Barrett is a Sports Writer with The Sydney Morning Herald.
Loading
Please explain
Our weekly podcast giving you insight into the stories that drive the nation.
Listen now
Source:
Google Australia
|
Netizen 24 Australia