Runaway train derailed in Australia after 50 minutes

Australia Australia Runaway train derailed in Australia after 50 minutes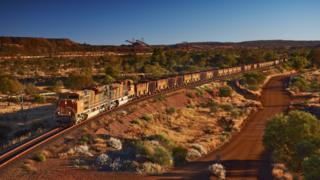 A freight train was deliberately derailed after hurtling through Western Australia at high speed for 50 minutes without its driver.
The 268-wagon train, owned by mining giant BHP, travelled for 92km (57 miles) with no-one on board in the outback Pilbara region on Monday.
The company said it had derailed the train remotely from Perth. It has since suspended its rail operations.
BHP said the incident had begun when the driver alighted to inspect a wagon.
"While the driver was outside of the locomotive, the train commenced to run away," the Australian Transport Safety Bureau (ATSB) said in a statement.
No-one was injured when the train, carrying iron ore, was derailed at 05:30 local time (18:30 Sunday GMT), the ATSB said. It has begun an investigation.
Working in an iron ore mine in Australia
Driverless trucks make mining 'safer'
Self-drive shuttle bus in crash on first day
BHP said the train had been travelling from its inland Newman mine to Port Hedland.
< p>It was derailed near Turner, about 120km from its destination, damaging the train and a 1.5km section of track.
The train was estimated to have been travelling at an average speed of 110km/h (68mph).
BHP said the train had travelled through a sparsely populated region on the company's own tracks.
State Premier Mark McGowan described the incident as "very concerning".
"I am sure that there will be a full review undertaken by BHP, and I will consult about what role the state might have in that," he said on Tuesday.
The Anglo-Australian miner said it was likely to take a week to restore its operations.
In July, rival company Rio Tinto said it had become the world's first miner to complete a heavy freight journey with new driverless train technology.
Top Stories
Americans vote in key election for Trump
The vote will change the make-up of Congress, and reveal how Americans view Trump's presidency.
6 November 2018
Voting begins in high-stakes US elections
6 November 2018
Invincible, but for how much longer?
5 November 2018
Features
Invincible, but for how much longer?
Large hydropower dams 'not sustainable'
NZ fisherman rescues baby from ocean
Israel-Arab ties warm up after long deep freeze
Deal or no deal - how are EU countries preparing?
India's tiger killings: A success story gone wrong?
The city banking on more guns to make it safer
How the humble lamp-post could help power our cities
Video
Last match at Sri Lanka's iconic stadium?
Elsewhere on the BBC
Football phrases
15 sayings from around the world
Full article Football phrases Why you can trust BBC News
BBC News Services
On your mobile
On your connected tv
Get news alerts
Contact BBC News
Source:
Google Australia
|
Netizen 24 Australia