Australia to relax working holiday visas to ease farm jobs shortage

Australian immigration and asylum Australia to relax working holiday visas to ease farm jobs shortage
Government to change rules for backpackers and Pacific Islanders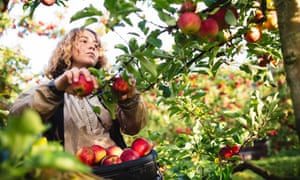 Backpackers and other visitors on working holidays will be able to stay in Australia longer under a federal government plan to help farmers fill job shortages.
Pacific Islanders taking up seasonal work will be able to stay three months longer and the age limit for working holiday visas f or some countries will be lifted to 35.
Backpackers will no longer need to leave jobs every six months and will be able to triple the length of their stay if they do extra agricultural work.
Death in the sun: Australia's 88-day law leaves backpackers exploited and exposed Read more
The changes come after the Nationals failed to deliver a promised agricultural visa and Scott Morrison's attempt to force unemployed benefits recipients to pick fruit was dismissed by the industry.
The prime minister was due to announce the changes in south-east Queensland on Monday.
"Australians filling Australian jobs is my number one priority, but when this isn't possible we need to ensure our farmers aren't left high and dry with rotting crops, especially in the strawberry industry," he told the Courier Mail.
A rule that forced some backpackers to work in northern Australia will also be dumped, and they will instead be allowed to work in a wider range of regions throughout the country.
Topics
Australian immigration and asylum
Migration
Agriculture
South Pacific
Rural Australia
Australian politics
Share on Facebook
Share on Twitter
Share via Email
Share on LinkedIn
Share on Pinterest
Share on Google+
Share on WhatsApp
Share on Messenger
Source:
Google Australia
|
Netizen 24 Australia