Indigenous performers could busk without permits under City of Sydney plan

Indigenous Australians Indigenous performers could busk without permits under City of Sydney plan
Clover Moore says policy recognises right of Indigenous people 'to experience and share their cultural heritage in the public domain'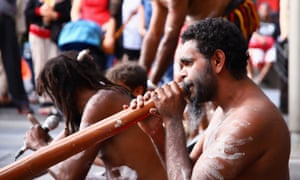 A new proposal allowing Aboriginal and Torres Strait Islander people to busk without a permit in Sydney's CBD has been welcomed by Indigenous perform ers.
Under the City of Sydney policy â€" which is open for feedback until the end of October â€" Indigenous people won't need a busking permit to practice their culture in public spaces managed by the city.
The change would be an important step towards showcasing Australia's Indigenous culture to the world, according to street performer Russell Dawson.
"People who come to Australia need to see some Indigenous culture," he said.
Wentworth byelection: Liberals face huge swing but no clear favourite emerges | Ben Raue Read more
"To allow Indigenous people to actually go about and promote their culture â€" that's a good thing."
Dawson has worked as a street performer in Sydney with Koomurri Aboriginal Incursions for more than 30 years.
He believes the change would also be a "stepping stone for bridging the gap".
"I think it's a good approach for reconciliation in Australia," he said. "It's all a bout coming together and celebrating Aboriginal culture."
The lord mayor, Clover Moore, said the proposed policy has been developed with a range of stakeholders.
"Our new policy recognises the right of Aboriginal and Torres Strait Islander people to experience and share their cultural heritage in the public domain," she said in a statement on Tuesday.
"Busking adds life and soul to a city and makes our public spaces more interesting and creative."
Topics
Sydney
New South Wales
Indigenous peoples
news
Share on Facebook
Share on Twitter
Share via Email
Share on LinkedIn
Share on Pinterest
Share on Google+
Share on WhatsApp
Share on Messenger
Source:
Google Australia
|
Netizen 24 Australia