Orange turns purple: Australian scientists solve fruit mystery

Australia Australia Orange turns purple: Australian scientists solve fruit mystery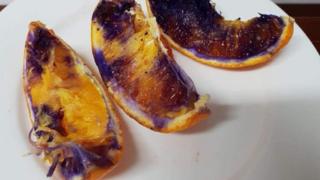 What could cause a freshly sliced orange to suddenl y turn purple?
Australian health authorities say they have solved a mystery that prompted much speculation earlier this month.
It began when a Brisbane woman, Neti Moffitt, asked for an investigation into why an orange - partially eaten by her son - had later changed colour.
Scientists have now revealed it was due to a natural reaction between the fruit and a sharpened knife. The orange did not pose a health risk, they added.
Stewart Carswell, Queensland Health's chief chemist, said "numerous tests" were conducted to determine the cause of the colour change.
The results revealed that anthocyanins - a naturally occurring antioxidant in oranges - had reacted with iron particles from the newly sharpened blade, he said.
Ms Moffitt told the BBC that it was "brilliant" have the mystery solved.
The orange turned purple sometime after Ms Moffitt's two-year-old son had eaten a few slices.
"It looks like someone's dipped it on an ink pad, which I guarantee you we haven't," she told the Australian Broadcasting Corporation earlier this month.
"My first thought was I hope it has had no ill effect on my child. But he's fine, absolutely not a drama."
You might also be interested in:
Why would someone hide a needle in fruit?
Fruit and veg: For a longer life 'eat 10-a-day'
Part of Australian beach vanishes into sea
On Wednesday, Mr Carswell described the investigation as unusual.
"We see samples that ra nge from blood, urine, water, soil, fish and foodstuffs. So to have an orange come through was really different for our team," he said in a statement.
The Queensland government said it had assured the family that the orange was not a risk to health.
Top Stories
US warns Iran of 'hell to pay' if crossed
The two sides taunt each other at the UN, with Iran accusing the US of "bullying and imposition".
26 September 2018
Cosby sentenced to prison for sex assault
26 September 2 018
Entire Mexican city's police force probed
26 September 2018
Features
Video
Why 27 hikers helped this woman up a mountain
The trend for renting rather than buying clothes
Has Macron lost his charm?
Video
Trump gets unexpected laugh at UN
The school turning boys into feminists
Why Sweden and China have fallen out so badly
BBC Culture: Taiwan's eerie sonic weapon
French jets get caught in Indian political storm
The policewoman who stopped WhatsApp killings
Elsewhere on the BBC
Football phrases
15 sayings from around the world
Full article Football phrases Why you can trust BBC News
BBC News Services
On your mobile
On your connected tv
Get news alerts
Contact BBC News
Source:
Google Australia
|
Netizen 24 Australia