Labor proposes stronger restrictions on gas exports

Energy Labor proposes stronger restrictions on gas exports
Shorten to pledge a permanent control trigger that can be pulled when prices are too high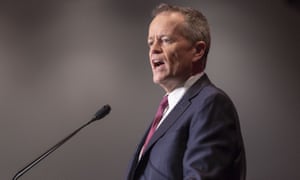 Labor has proposed stronger export restrictions on gas, promising to help reduce energy costs by reserving more domestic supply.
On Monday Bill Shorten will promise a permanent gas export control trigger that can be pulled when gas prices are too high, not just when a gas shortfall is forecast.
In 2017 the Turnbull government intr oduced a mechanism for export controls but did not pull the trigger because it reached agreement with major gas producers to quarantine additional supply for the domestic market.
Options on energy policy leave Coalition in a sticky situation | Katharine Murphy Read more
Labor also proposes new powers for the Australian Competition and Consumer Commission to crack down on anti-competitive behaviours and to boost domestic supply by introducing a new national interest test for project approvals.
Under the new rules the amount of gas due to be dedicated to domestic use will be a consideration for the approval of projects including all new liquified natural gas export facilities or significant expansions of existing facilities.
The national interest test and the permanent gas export control trigger would be overseen by a domestic gas review board. The board would monitor if prices are too high â€" based on a benchmark set by the ACCC â€" then make a re commendation to enact export controls by putting third-party gas supplies back into the domestic market.
"Labor's plan will put downward pressure on gas prices for Aussie manufacturers and power generators â€" which is good for jobs and good for households," Shorten said.
He accused the Coalition government of regulation via "ineffectual and unenforceable handshake agreements with gas exporters to real action to strengthen our local industry".
The ACCC's gas inquiry interim report of December 2017 set a benchmark price of between $6.55 a gigajoule and $9.93 a gigajoule, an improvement from $18 to $19 a gigajoule in the first half of 2017.
But Manufacturing Australia says its members are being quoted prices of between $10 and $12 a gigajoule.
The executive director of Manufacturing Australia, Ben Eade, said: "The bottom line is this: if we want Australian manufacturing jobs, we need competitively priced gas.
"In the long term, that means we need more supply and more suppliers. But export controls provide an important safeguard and a bridge to longer term measures."
Richard Di Natale: I will work with Labor to get action on climate change Read more
Eade said Labor's proposed measures would "strengthen existing gas export controls and put rigour around what constitutes a fair price for domestic gas".
Shorten's old union, the Australian Workers' Union, has been lobbying for more extensive gas export restrictions as a means to decrease energy costs for large industrial users who employ its members.
In February a McKell Institute report commissioned by the AWU found that households in New South Wales will pay up to $434 more for electricity by the end of 2019 than if gas prices were at a level the competition regulator has said is reasonable.
In 2016 the ACCC found that gas suppliers on the east coast of Australia used a market restructure to raise prices for domestic consumers and there is evidence pipeline operators have set monopoly prices.
Topics
Gas (Business)
Gas (Environment)
Australian politics
Labor party
Bill Shorten
news
Share on Facebook
Share on Twitter
Share via Email
Share on LinkedIn
Share on Pinterest
Share on Google+
Share on WhatsApp
Share on Messenger
Source:
Google Australia
|
Netizen 24 Australia