Toddler mauled by dog dies in Australia

Australia Australia Toddler mauled by dog dies in Australia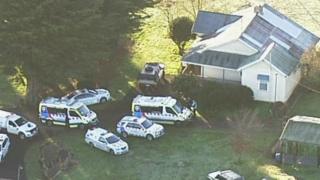 A 14-month-old girl has died after she was attacked by a dog in Australia, police say.
The toddler was bitten by a German Wirehaired Pointer at a rural property at Neerim Junction, 120km (75 miles) east of Melbourne in the state of Victoria.
Police and paramedics were called to the home early Wednesday morning but were unable to save the girl.
Australian media reported she had been bitten on the face.
The toddler's mother had attempted to intervene in the attack but failed to stop the dog, Seven News reported.
The dog has since been seized by council officials, police said.
Can you ever trust a dog around children?
Top Stories
International calls for restraint in Zimbabwe
The UN and former colonial power the UK call for calm amid a post-election government crackdown.
2 August 2018
US sanctions Turkish ministers over pastor
1 August 2018
Trump d emands inquiry end 'right now'
1 August 2018
Features
Can we tell now if Democrats will win US election?
Trump claims ID needed to go shopping
Video
Gaddafi's home still a ghost town
Video
Walking in a god's hands on Vietnam bridge
Teen's tweet sees 'cocky' bouncer barred
The unlikely US box office stars
Jewellery thefts that shocked the world
The European populists monitoring 'sham' elections
Fans question Chinese star's whereabouts
Elsewhere on the BBC
Football phrases
15 sayings from around the world
Full article Football phrases Why you can trust BBC News
BBC News Services
On your mobile
On your connected tv
Get news alerts
Contact BBC News
Source:
Google Australia
|
Netizen 24 Australia