Australia may ban Chelsea Manning from entering country

Chelsea Manning Australia may ban Chelsea Manning from entering country
Tour organiser asks supporters to lobby immigration minister over whistleblower's visit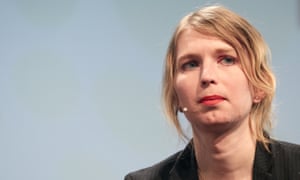 The Australian government is considering banning the US whistleblower Chelsea Manning from entering the country for a speaking tour.
Manning, a former intelligence analyst in the US army who served in the Iraq war, spent seven years in a military prison after being convicted of leaking nearly 750,000 classified military and diplomatic documents to WikiLeaks.
Barack Obama commuted her original 35-year-sentence, and she was released in May 2017.
Manning, an occasional Guardian columnist, is scheduled to give a speech at the Sydney Opera House on Sunday night as part of the Antidote festival, as well as addresses in Brisbane and Melbourne.
The Australian organiser of her speaking tour, Think Inc, has written to supporters asking them to lobby the newly installed immigration minister, David Coleman.
"We have just received a notice of intention to consider refusal under s501 of the Migration Act from the Australian government in regards to Chelsea's visa," the company's director, Suzi Jamil, wrote to supporters.
"We are looking for support from relevant national bodies or individuals, especially politicians who can support Chelsea's entry into Australia. We are seeking letters of support to send to the minister for immigration in order for him to reconsider his decision."
Section 501 of the Australian Migration Act gives the immigration minister broad and unchallengeable powers to refuse or cancel visas, either on national interest grounds or because they decide applicants or holders have not passed a "character test".
The former immigration minister Peter Dutton, who is now home affairs minister, used the provision regularly to cancel the visas of bike gang members, people with criminal records and others.
The rappers Snoop Dogg and Chris Brown, the "pickup artist" Jeff Allen and the boxer Floyd Mayweather have all been denied visas on character grounds. The Holocaust denier David Irving has been refused a visa various times.
A spokeswoman for the department of home affairs, which oversees immigration, said it would not comment on individual cases, but that all non-citizens entering Australia must meet the character requirements of th e Migration Act.
"A person can fail the character test for a number of reasons, including but not limited to where a non-citizen has a substantial criminal record or where their conduct represents a risk to the Australian community."
Manning is due to speak in New Zealand the weekend after her first Australian address, but the opposition there has also called for her to be blacklisted.
Because of her previous convictions, Manning requires a special direction visa to visit New Zealand, and is subject to additional character provisions in the country's Immigration Act.
New Zealand's opposition immigration spokesman, Michael Woodhouse, said Manning's special direction visa should be refused because of her history of criminal convictions.
"This is a convicted felon, sentenced to 35 years in jail, coming in here for money," Woodhouse told Stuff. "There's no rehabilitation, no remorse, the very purpose of her visit to come and talk abou t her crimes."
Immigration New Zealand said "an appropriately delegated INZ staff member will look at the representations in the first instance", confirming they had received an application from Manning's representatives for a visa.
Manning tweeted last year that she had been banned from entering Canada because of her criminal convictions, but then secured a Canadian visa in May this year.
Topics
New Zealand
Asia Pacific
news
Share on Facebook
Share on Twitter
Share via Email
Share on LinkedIn
Share on Pinterest
Share on Google+
Share on WhatsApp
Share on Messenger
Source:
Google Australia
|
Netizen 24 Australia