Hamid Kehazaei: Australia responsible for 'preventable' death of asylum seeker

Australian immigration and asylum Hamid Kehazaei: Australia responsible for 'preventable' death of asylum seeker
Coroner Terry Ryan finds systemic flaws caused Iranian man's death from infection contracted on Manus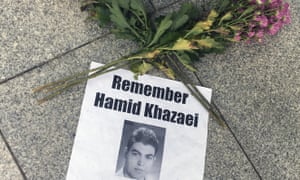 The family of the Iranian asylum seeker Hamid Kehazaei, whose death from infection on Manus Island was caused by a cascading series of errors and systemic failures in the Australian-run off shore detention centre, say "nothing will replace the life of their beloved son and brother".
But they have urged the Australian government to heed the findings of the Queensland coroner Terry Ryan, which were handed down on Monday.
Ryan found that Kehazaei's death was preventable and recommended that healthcare on the offshore islands be properly funded and run â€" and under the control of doctors â€" or asylum seekers and refugees be moved to Australia.
"The coroner's findings of inquest is an exhaustive and powerful document and it will take some time … to process it," the family said.
Coroners examine deaths in Australian immigration detention Read more
"The family thanks the coroner for the thoroughness of his investigation and his findings and urges the Australian government to take his honour's recommendations seriously."
The coroner recommended that doctors treating asylum seekers and refugees on offshore islands should have control of patient transfers to hospital care in Australia. Doctors' recommendations for higher-level care are now routinely overruled by non-medically trained Australian Border Force officials and Department of Home Affairs bureaucrats.
The coroner also recommended that all deaths of asylum seekers and refugees sent offshore by Australia should be subject to a mandatory inquest in Australia â€" essentially that they be treated as deaths in custody, as Kehazaei's was.
Kehazaei, whose name is more accurately translated Khazaei but whose Australian government documents list the former spelling, was a fit and healthy 24-year-old when he was forcibly removed from Australia to Manus Island in 2013, the coroner found. He had fled Iran fearing arrest and torture.

"Mr Khazaei was well known by everyone at the RPC [regional processing centre]. He was considered polite and respectful to all, regardless of religious or cultural differences, and was well liked," the coroner said.
On 23 August, 2014, Kehazaei presented to the Manus Island medical clinic with flu-like symptoms and a small lesion on his leg. The clinic did not have the basic antibiotic to treat his common tropical infection, and, despite treatment, Kehazaei's condition deteriorated rapidly.
Dying refugee on Nauru barred from coming to Australia for palliative care Read more
Doctors on the island urged his immediate transfer to Australia but this was first ignored â€" including by department of immigration bureaucrats who didn't read their emails for up to 13 hours â€" and then rejected by the department.
After further pleading from doctors trying to treat him, approval was finally granted â€" two days after the initial request â€" to move Kehazaei, by now semi-conscious and septic. But the department ordered he be moved not to Australia but to Port Moresby's Pacific International hospital.
At the PIH, Keha zaei was was misdiagnosed, treated with broken equipment and left unattended as he grew critically ill.
He suffered a series of cardiac arrests and, by the time he was transported to Brisbane's Mater hospital, was profoundly brain-damaged.
In a 140-page finding, Ryan found that Australia held sole responsibility for Kehazaei's care and for the failures that led to his death.
Ryan said Kehazaei could have been saved by basic interventions at several points during his worsening illness but that "the compounding effect of multiple errors" and "systemic failures" in the offshore healthcare system had led to his death.
He was scathing about the standard of healthcare delivered to Kehazaei, and pointed out numerous failures which, combined, caused his death from a preventable infection.
"No antibiotic was available at the Manus Island regional processing centre (MIRPC) clinic to safely and effectively treat the range of infections commonly found in a tropical setting, including the infection suffered by Mr Khazaei.
"There were a number of significant flaws in the arrangements for Mr Khazaei's transfer from the MIRPC, including a lack of documented approval process, resulting in a missed opportunity to transfer him on a commercial flight to Port Moresby on the afternoon of 25 August 2014."
Kehazaei was not transferred until the next day, by which time he was experiencing septic shock, the coroner found. "At that time he needed to be transferred to a critical care facility in Australia."
Ryan said healthcare on offshore islands to where asylum seekers and refugees were forcibly removed remained Australia's legal responsibility.
"It is incumbent on the Australian government to implement sustainable systems for the delivery of health care that meet the requisite standard," he said.
Ten people have died in offshore detention since Kehazaei's death. Ryan said further deat hs would be prevented by moving people to a place where healthcare standards were higher, such as Australia or New Zealand.
"However, I acknowledge such an approach is highly unlikely in the absence of a fundamental revision of the broader policy framework."
A spokeswoman for the Department of Home Affairs said the department had provided full assistance to the inquest and was reviewing the coroner's findings.
"The department expresses its condolences to the family and friends of Mr Khazaei."
In 2014, former immigration minister Scott Morrison told Guardian Australia Khazaei received "outstanding" care.
"When someone becomes ill they receive outstanding care from the people who work as part of our mainland detention network, and in the offshore processing centres that are under the management of the governments of Papua New Guinea and Nauru," he said.
The barrister representing the Khazaei family, Stephen Keim SC, said all of the coroner's recommendations were important, but "in particular, the recommendation that a statutory process be put in place for an independent judicial inquiry into the deaths of all asylum seekers is a very important recommendation and one the government should act on immediately".
Kate Schuetze, Amnesty International's Pacific researcher, said Australia was failing its human rights obligations. "And that continues while people are being held on Manus in these cruel conditions and denied adequate healthcare while they're there."
Offshore detention won't be fixed by politicians. Can the high court help? | Richard Ackland Read more
Dr Barri Phatarfod from Doctors for Refugees said Kehazaei's death had laid bare the systemic failures of healthcare in offshore detention â€"known flaws that had not been resolved.
"We have so many cases [like Kehazaei's]. It's just a matter of time before this happens again."
Th e president of the Royal Australian College of General Practitioners, Dr Bastian Seidel, said bureaucrats should never be allowed to override a clinical decision made by a medical doctor: "There comes a point when Minister ⁦Peter Dutton⁩ needs to be asked to take responsibility for the actions of his department."
On Manus Island, those who knew Kehazaei in detention pleaded for his death not to be in vain.
"All of us detained for years on Manus and Nauru have been waiting for justice," wrote a fellow Iranian, Behrouz Boochani. "For a long time we have been asking Australian courts and independent organisations to investigate the deaths in the prison camps, there are enough documents and witnesses to prove the harsh living conditions and lack of medical care.
"We ask again the Australia close these prison camps and let us start a new life."
Topics
Australian immigration and asylum
Manus Island
Migration
Health
Refugees
news
Share on Facebook
Share on Twitter
Share via Email
Share on LinkedIn
Share on Pinterest
Share on Google+
Share on WhatsApp
Share on Messenger
Source:
Google Australia
|
Netizen 24 Australia