'Cruel blow for pensioners': Labor promises to undo Coalition's energy plan

Australian politics 'Cruel blow for pensioners': Labor promises to undo Coalition's energy plan
Shorten and Burney vow to restore supplement under threat for new welfare recipients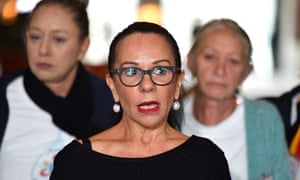 Labor says it will reverse the Coalition's plan to axe the clean energy supplement, which is worth hundred s of dollars a year, for those who went onto welfare after September 2016.
While Labor has consistently opposed the as-yet unlegislated measure, on Sunday the opposition leader, Bill Shorten, and the shadow human services minister, Linda Burney, promised that if the supplement was cut, Labor would restore it. The payment is worth $365 a year for singles and $550 for couples.
The pair made the commitment a week before the crucial Super Saturday byelections in Labor seats Braddon and Longman, where the opposition has promised $320m in spending.
Coalition's national energy guarantee predicted to drive up power prices Read more
Malcolm Turnbull blasted the policy as a sign of Shorten's "desperation" claiming it indicated "he's given up on bringing down energy prices".
The energy supplement was introduced in 2013 by the Gillard government to compensate for the introduction of the carbon price, which was later abolished by the Abbo tt government.
In 2016 the Turnbull government moved to stop new welfare recipients receiving the supplement, a measure estimated to save $1.4bn over five years.
But the cut has not yet been legislated after the Coalition was forced to remove it from the omnibus savings bill.
The 2018 budget confirmed the government still planned to make the cut for those who started receiving welfare after 20 September 2016. The parliamentary budget office estimates this will affect 592,000 pensioners in 2020-21 and 1.5m by 2028-29.
Earlier figures from the Department of Social Services indicate that in the four years to 2020, the supplement would be cut for 470,000 Newstart recipients, 344,000 recipients of youth allowance, 205,000 recipients of parenting payments, and more than 100,000 carers.
Shorten and Burney labelled it a "cruel blow for pensioners who are already doing it tough under [the Turnbull] government".
"The choice is simple: under Lab or, all pensioners will continue to get their energy supplement, under the Liberals they won't.
"At a time when energy prices are on the rise, the last thing that Australian pensioners need is a cut to their household budget."
At a press conference in Townsville on Sunday Turnbull said energy prices were already "starting to come down".
Despite forecasts from the Grattan Institute that power prices will remain high, the Coalition argues that its threat of export controls on gas has resulted in higher domestic supply and lower wholesale prices.
No end to climate wars if energy pact offers concession to coal, Labor warns Read more
Turnbull claimed his government had "a plan for more affordable electricity" and "Shorten has a plan for more expensive electricity". However, new analysis from RepuTex indicates Labor's emissions reduction target of 45% by 2030 would lower power prices, while the Coalition's target of 26% in t he national energy guarantee would raise prices.
The analysis, commissioned by Greenpeace, suggested prices were higher in the Coalition's proposal because coal continued to dominate the market, investment in large-scale renewables was largely static, and gas took a higher share to provide flexible dispatchable power as coal assets left the system.
Turnbull claimed Labor plans "force-feed renewables into the system in a way that will force up electricity prices". He said Labor's pledge on the energy supplement was "a surrender by Bill Shorten of any commitment to keep electricity prices down".
Topics
Energy (Australia news)
Energy (Environment)
Welfare in Australia
Australian economy
Fossil fuels
news
Share on Facebook
Share on Twitter
Share via Email
Share on Linke dIn
Share on Pinterest
Share on Google+
Share on WhatsApp
Share on Messenger
Source:
Google Australia
|
Netizen 24 Australia