Soul searching begins for Australia after World Cup exit


World Cup 2018 Soul searching begins for Australia after World Cup exit
As rancour over the Socceroos' exit begins, Australian football fans may need to temper or adjust their expectations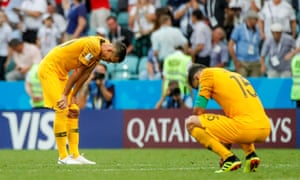 The odds were never with Australia. Throughout the 2018 Fifa World Cup, fans of the Socceroos have consistently found their team on th e wrong side of probability.
Australia was unfancied against France, Denmark and Peru. They managed to momentarily surprise all three opponents. One point in three matches is unflattering. Whether the scoreline tells the full story is up for debate. But as outgoing Australia manager Bert van Marwijk quipped following the final match, "you don't win games with compliments."
No regrets for Bert van Marwijk as Australia depart World Cup Read more
The results went to form. France is the seventh best team in the Fifa rankings, Peru the 11th and Denmark the 12th. Australia sits in lowly 36th place. And yet reprisals have been swift. The absence of Tim Cahill. The continued inclusion of Robbie Kruse. The repeated utilisation of blunt forwards Andrew Nabbout and Tomi Jurić. A persistence with two deep-lying midfielders. Fatigue resulting from an identical starting XI. There are no shortage of candidates and concepts to blame for Australia's premature e xit.
Read some newly-passionate newspapers and one would think more "spirit" and "heart" was all required to see off the opposition. Listen to the local television commentary, a sliver of luck may be the only thing preventing the Socceroos from progress. The hyperbole was being used to full effect. That Australia had struggled to qualify â€" the penultimate nation to make it to Russia â€" and was on paper the poorest team in the group never seemed to warrant a mention. By those measures, one point at the World Cup looks a notable success.
It is unclear what comes next. Several Socceroos are contemplating retirement â€" Mark Milligan, Tim Cahill and Mile Jedinak are all believed to be weighing up the options. Off the pitch, veteran Socceroos physiotherapist Les Gelis and head of sports science Craig Duncan are both departing for new pastures. The team that new coach Graham Arnold will inherit could have a rather different complexion upon his arrival.
A rnold's first test as Socceroos manager, the 2019 Asian Cup in January, will be a good barometer of the team's current quality. After the tactical schizophrenia of the past year â€" from expansive, pass-focused, three-at-the-back football under Ange Postecoglou to van Marwijk's reactionary 4-2-3-1 â€" Arnold needs to quickly settle on his preferred approach. He can use the friendlies between now and January to fine-tune, before the system will be put to the test in the United Arab Emirates.
It is the teams of Asia that Australia must beat regularly; World Cup aside, the vast majority of matches during each four-year-cycle are in Asia. After the protracted and often perilous qualification campaign for Russia 2018, a strong performance at the Asian Cup would instil hope that Australia's current generation is up to scratch. Failure in January would see the World Cup-provoked navel-gazing become even more frustrated.
If the ultimate lot of Australian football fan s is a national team that performs well in its own continent and creditably but not incredibly on the global stage, is that so bad after all? Fans of many other nations would gladly take that bargain. The Australian football fraternity has two options. It can accept this reality and manage expectations accordingly.
Australia head home after defeat to Peru in World Cup â€" in pictures Read more
Or, it could collectively undertake the necessary â€" and radical â€" structural changes that might enable Australia to produce a consistently higher calibre of footballer. Given the manifold obstacles to that nirvana, including vested interests within the game, code rivalry and finances, there are no guarantees that even a concerted effort at reform would have any perceptible impact. Whatever happens, Australian football may just continue to muddle through regardless.
It may sound trite, but it should not be forgotten that Australia's quadrennial appearance at the World Cup are only a recent phenomenon. The Socceroos first attended Fifa's flagship event in 1974, and it would not be until 2006 that Australia returned. While qualification may now seem no more than a formality to some fans, just being at the World Cup is a significant achievement for Australia. That should not be overshadowed, nor the historical context forgotten.
Australia entered Group C at the 2018 World Cup as the weakest team. It exits in the same position. But along the way the Socceroos performed won plenty of admirers. "I think we showed everybody that when you do not have the best players in the world â€" everyone knows at which level our players are playing all over the world â€" still we can compete with France and Denmark and also Peru," van Marwijk reflected. "We played at the same level and I think also sometimes a little bit higher"
Valiant in defeat? Or not good enough? It is all a matter of perspective.
Topics
Australia
World Cup
Australia sport
features
Share on Facebook
Share on Twitter
Share via Email
Share on LinkedIn
Share on Pinterest
Share on Google+
Share on WhatsApp
Share on Messenger
Source:
Google Australia
|
Netizen 24 Australia