Morning mail: dying refugee on Nauru barred from Australia


Good morning, this is Richard Parkin bringing you the main stories and must-reads on Monday 11 June.
Top stories
A dying Afghan refugee held on Nauru will not be allowed to travel to Australia for palliative care, with Australian Border Force deeming the man, who has advanced lung cancer, to have "refused treatment" by declining an offer to be moved to Taiwan to die. The 63-year-old told Australian officials he did not want to go to Taiwan because he knew no one there, and was concerned there would be no one who spoke his language, Hazaraghi, or to perform the Shia Muslim rituals and ceremonies on his body when he died.

One of his friends said: "It seems like he is going to die very soon." Another friend said they had pleaded with Australian officials for assistance. "But the ABF totally rejected his request: they said go to Taiwan for medica l help; second option, go back to Afghanistan; third option is to stay here for as long as you are alive. He is very angry, he is very upset as well. He said these people do not have a human heart."

Sign up to receive the top stories from Guardian Australia every morning
Donald Trump and Kim Jong-un have arrived in Singapore for a historic summit to discuss the fate of North Korea's nuclear weapons program. Trump left behind a calamitous G7 summit in Quebec, angrily branding Canada's Justin Trudeau "very dishonest" and "weak", while his chief economic adviser, Larry Kudrow, said Trudeau had "stabbed us in the back", instigated "a betrayal" and was "essentially double-crossing President Trump". The comments from Trump's team drew strong responses from G7 leaders, with France's Emmanuel Macron declaring that cooperation on the international stage "cannot be dictated by fits of anger and throwaway remarks".
< strong>The NSW government has agreed to release reports on two of its most controversial decisions but insists it is doing so voluntarily, not in response to orders from the upper house. The business case for the $2.3bn redevelopment plans for Sydney's two major stadiums and the 2016 Tune report on out-of-home care for at-risk children will be available for public scrutiny, albeit with redactions. Both political decisions have been heavily criticised, with advocates claiming the Tune report points towards the creation of a new stolen generation of Indigenous children.
Italy has refused to let a boat carrying 629 migrants dock at any of its ports, asking Malta to receive it instead. The migrants were picked up in six rescue operations off the coast of Libya, including hundreds who were plucked from the sea by Italian naval units. Italy's new interior minister, Matteo Salvini, the head of the far-right League party, made stopping the flow of migran ts a central electoral promise, but Malta has said it has nothing to do with the rescue operation, opening the prospect of a standoff between the two EU allies. "Malta is neither the competent nor the coordinating authority in this case," its government said. "Malta will observe prevailing laws."
Anti-Adani activists say they have launched an escalating disruption campaign against the Queensland construction company Wagners over a $30m contract to build an airstrip for the Carmichael coalmine. Members of the group Galilee Blockade entered a Wagners industrial site at Pinkenba near the Port of Brisbane on Sunday afternoon as a precursor to further protests. The company, which listed on the stock exchange in December, has said it would not be "intimidated" if targeted.
Sport
Rafael Nadal has won his 11th French Open title, defeating Austria's Dominic Thiem 6-4, 6-3, 6-2. Nadal's place in the pantheon of tennis w as secured some time ago, writes Kevin Mitchell, but this further elevates him from his mortal rivals.
With Australia facing elite opposition in two football codes next Saturday, Bret Harris explains how a change in tactics helped the Wallabies to an impressive win in the first Test against Ireland, while Ante Jukic examines the midfield dilemma evident in Australia's win over Hungary before their World Cup opener against France.

Thinking time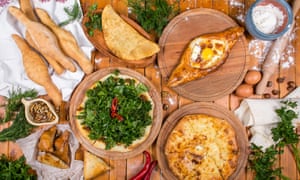 Travelling to Russia for the World Cup brings exposure to so much more than football, as the Guardian's man in Moscow, Andrew Roth, points out. If you're about to hop on a plane, or have friends who are, here†™s a ready guide to navigating food, drink, travel, humour and more in Russia. Do: try Georgian food â€" cheesy khachapuri, shashlik and khinkali (giant soup dumplings). Don't: talk politics.
Australian consumers are collateral damage in Amazon's stoush over GST, writes Jeff Sparrow. Amazon's decision to avoid GST by geobarring Australians from its main site "is a neat illustration of the degeneration of what we once called globalisation … Amazon says that collecting tax would be too onerous. But that's a furphy â€" no one really believes that Amazon's famous algorithms couldn't perform the necessary calculations. The real issue pertains to politics, not technology."
Born into a Baptist family, Garrard Conley was sent for conversion therapy to 'treat' his sexual identity. He speaks to Aaron Hicklin about his brave and bracing memoir, Boy Erased, now adapted to film. "That whole environment was just permeated wi th what my parents believed was a literal interpretation of the Bible," Conley says. "Every time I've read a book or ingested a new historical fact that my Baptist upbringing taught me to reject, I've had to fight against the sneaking suspicion that I am being led astray by Satan."

Media roundup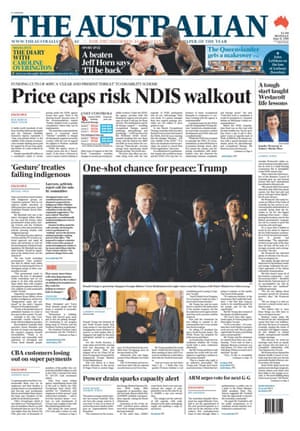 The national disability insurance scheme faces a massive provider walkout after a consultant's report revealed "extreme" variability in patient charges and recommended that price caps be put in place, the Australian reports. The Sydney Morning Herald profiles Julie Bates, a pioneering advocate of sex workers recognised in the Queen's birthday honours for her efforts to combat the spread of HIV and Aids. The Age leads with the industrial relations standoff that threatens to derail Victoria's biggest transport project, the $6.7bn West Gate Tunnel, after five construction unions accused the consortium appointed to build it of trying to slash conditions and pay.
Coming up
The Queen's birthday honours list is out today and includes more women in the highest category, Companions of the Order of Australia, than men â€" the first time that has happened in any category.
The Australian ski season starts today, which is also a public holiday in most states (but not Queensland or Western Australia, which also do not have ski seasons).
Supporting the Guardian
We'd like to acknowledge our generous supporters who enable us to keep reporting on the critical stories. If you value what we do and would like to help, please make a contribution or become a supporter today. Thank you.
Sig n up
If you would like to receive the Guardian Australia morning mail to your email inbox every weekday, sign up here.
Topics
Guardian Australia's morning mail
Share on Facebook
Share on Twitter
Share via Email
Share on LinkedIn
Share on Pinterest
Share on Google+
Share on WhatsApp
Share on Messenger
Source:
Google Australia
|
Netizen 24 Australia