Korean hiker shares survival story after rescue from Australian bush

Australia news Korean hiker shares survival story after rescue from Australian bush
Joohee Han says she dreamed about food and her family after she fell into deep ravine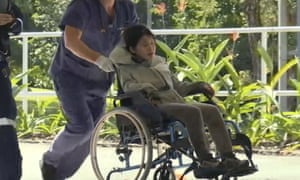 A South Korean hiker lost in dense Australian bushland for six days without food and in near-freezing temperatures has spoken about how dreams of a warm bed and her parents kept her alive.
Joohee Han, 25, shared her tale of survival after she fell into a deep ravine while taking photographs from a mountaintop south of Cairns in northern Queensland state.
Rescuers had said her chances of staying alive in the rugged terrain, where temperatures dropped to 9C (48F), had been "near zero".
She disappeared on 1 June after telling friends she was going to climb Mount Tyson, but was only reported missing on Wednesday, with rescuers eventually finding her on Thursday.
Han told the Australian Broadcasting Corporation on Saturday she was knocked unconscious for several hours after falling, and woke up at night on the side of a steep slope.
"I pretty much didn't move from where I fell from because it was so steep. Even putting a foot wrong would've been instant death," she said. "It still makes me teary thinking about that, thinking, 'am I going to die?' But there was so much I still wanted to do, food I wanted to eat, and people I wanted to see again. I thought of my parents so much."
Despite the fall from what she thought was about three storeys high, Han sustained only a broken tooth, bruises and cuts.
She said: "I just craved the stuff I normally ate, mee goreng, cereal, bananas. I thought so much about the things I wanted to do when I got out of here and stepped on solid ground, but then I'd get sad again because I knew I could only do those things if I stayed alive: they were things I couldn't do if I died."
Han was eventually able to make it to a ledge near a waterfall, where she drank water and screamed for help until a nearby hiker heard her and alerted police.
On her rescue, she said: "I didn't realise how happy I could be just standing on the ground until then."
Topics
Queensland
Asia Pacific
news
Share on Facebook
Share on Twitter
Share via Email
Share on LinkedIn
Share on Pinterest
Share on Google+
Share on WhatsApp
Share on Messenger
Source:
Google Australia
|
Netizen 24 Australia