Bill Shorten wants Australia to vote on Indigenous treaty and republic together

Republicanism Bill Shorten wants Australia to vote on Indigenous treaty and republic together
Opposition leader calls for Australia to move towards an Australian head of state alongside treaty talks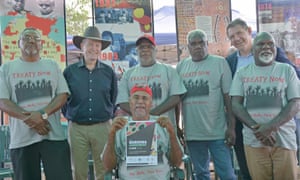 The Australian opposition leader, Bill Shorten, has said a move towards a republic should be progressed alongside a treaty with the country's Indigenous people.
Speaking to Sky News on Sunday from the Northern Territory community of Barunga, Shorten said the country needed to move towards getting an Australian head of state.
NT signs historic Barunga agreement to begin Indigenous treaty talks Read more
"I think it's remarkable that over two centuries after first European settlement we are still borrowing, a very worthy person, but a monarch from another country," the Labor leader said.
The Australian Monarchist League said Shorten was making a "huge blunder".
"Support for a treaty and support for a republic derive from two entirely different sectors of the community," the league's national chair, Philip Benwell, said in a statement.
• Sign up to receive the top stories in Australia every day at noon
"Previous Labor leaders have recognised that approximately one-third of Labor voters are monarchist and conservative traditionalists."
He said this was seen in the 1999 republic referendum, in which traditional Labor voters opposed a republic, and more recently with a high no vote in Labor electorates in the same-sex marriage postal survey.

Topics
Bill Shorten
Australian politics
Indigenous Australians
news
Share on Facebook
Share on Twitter
Share via Email
Share on LinkedIn
Share on Pinterest
Share on Google+
Share on WhatsApp
Share on Messenger
Source:
Google Australia
|
Netizen 24 Australia