Australia and Pakistan join hands for Abu Dhabi rollercoaster ride

Cricket Australia and Pakistan join hands for Abu Dhabi rollercoaster ride
Pakistan 282; Australia 20-2
Nathan Lyon becomes Australia's fourth-highest wicket taker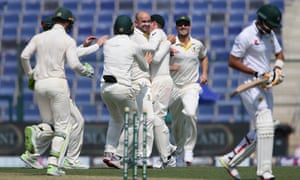 Test cricket is all about momentum shifts and contrasts. None more so than this. After the long slow unfolding of the first Test's classic draw, the second Test between Pakistan and Australia in Abu Dhabi started in fast- forward.
Even though the pitch had some grass left on it and produced some bounce, Australia would have been dreading another first-day grind, losing the toss for the second time in the series and asked to bowl at a ground where the average first-innings score is north of 400.
Instead they were part of a day that shifted like the desert dunes surrounding the stadium. It involved records, collapses, counterattacks and flourishes, a rush of wickets and two near-centuries, as Australia dismissed Pakistan for 282, then fell to two for 20 themselves by stumps.
From living-room commentary to buying radio rights for Australian Tests | Adam Collins Read more
It was a cinematic day, nothing happening in expected fashion. The first breakthrough was suitably unorthodox, Mohammed Hafeez following a century in the first Test by glancing Mitchell Starc. It was flush off the face of the bat, but hit the short-leg fieldsman Marnus Labuschagne in the box. Televisi on cameras measured reaction time, but the catcher hadn't had time to move a muscle.
He did react when the rebound hit his knee and bobbled up as he fell. While spinning a half circle and rolling onto his back, Labuschagne knocked it up onto his chest and clasped it there with both legs. He had turned a late 1980s breakdance move into a completed catch according to the Laws of the game. Still, it looked like the only joy Australia would experience as Pakistan powered on with a 50-run stand. Fakhar Zaman was on debut, the man known for his blazing batting in white-ball cricket that included a century to win last year's Champions Trophy final, and a double-hundred in a one-dayer last July.
He had been hitting them well, carving runs from the fast bowlers, when he drove spinner Jon Holland straight to midwicket. Perhaps confused by the lack of initial groin contact, Labuschagne dropped the catch. There were visions of a long day of punishment ahead.
But while F akhar went on, his teammates did not. As Nathan Lyon sent down his off-breaks, Azhar Ali chipped a return catch. Haris Sohail had made a century in the first Test, but followed up with a golden duck as he squeezed Lyon's next ball to Travis Head at silly mid-off.
The over ended, and Lyon's hat-trick ball to start his next was seen out by Asad Shafiq. Not so the ball to follow, which a smart DRS referral found had taken an edge into the pad on its way to Labuschagne at short leg. With visions of taking the attack back to Australia, Babar Azam skipped down the wicket two balls later to punt Lyon over long-on. Instead the ball met leg stump. Pakistan had been 57 for one, then were 57 for five. Lyon had four wickets for none.
In the process, he overtook Brett Lee and Mitchell Johnson to become Australia's fourth-highest wicket taker. With 314 to his name, the only names no w ahead of him read Lillee, McGrath, and Warne. The off-spinner can no longer be underestimated. His nickname of 'Goat' grows less satirical by the match.
But Pakistan were not done. In keeping with the strangeness of the day, their two most attacking players were tasked with forming a rearguard. Fakhar fought against his instincts, finding Lyon especially was gaining bounce and turn. "There was a bit of moisture in the wicket," he told the Wisden Test Cricket radio broadcast after play. "Safi plays spin really well, always. He was feeling comfortable, but I was not comfortable against the spinners. That's why I was blocking the ball and taking my time."
Sarfraz took the initiative not with slogs or carves, but by staying busy and running hard. He took guard well outside leg stump at times to throw off Lyon's rhythm. "He's got one of the lowest dot-ball percentages in the game," said Lyon. "I found it quite humorous how far he was going outside, but I just tried to bowl him my best ball."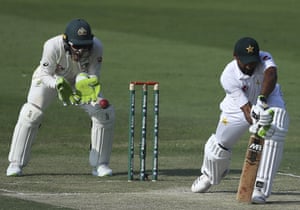 Sarfraz's tactics worked, though. Giving himself space, he was able to cut repeatedly off his stumps, or drive through cover. The Australians couldn't pin him down: he barely faced more than a couple of balls before rotating strike. Tim Paine tried leaving sweepers out to stifle the scoring, but Sarfraz used it to facilitate his method.
Fakhar got moving with a straight six from Holland to enter the 90s, then a reverse sweep. But having added 147 together, another swing arrived.
Labuschagne is in this te am as a batsman, but has made his mark with the ball and in the field. His quick, skiddy leg-breaks trapped Fakhar in the last over before tea for 94, the debut century tantalisingly close. He came back after the break to have Bilal Asif caught behind for 12, and after a tired Sarfraz took a nasty blow to the elbow from a Mitchell Starc bouncer, he was out for 94 trying to launch Labuschagne over cover. Peter Siddle took it on the third juggle after it bounced off his nose â€" Australian catches were being completed with every body part bar hands. The part-timer Labuschagne finished with a vital three for 45.
Despite late hitting from leg-spinner Yasir Shah with 28, a score of 282 would have delighted Australia at the start of the day. Then the final twist: Mohammad Abbas, so penetrative outside off stump, got Australia's key man Usman Khawaja down the leg side, Sarfraz forgetting his exhaustion and injured arm to fly to his right.
Nightwatchman Siddle was lbw on ref erral to the final scheduled ball of the day, taking Pakistan to stumps with some wind back in their sails. It was only fitting, given the amount of action and intrigue one day had contained. The teams will resume with the match and the series perfectly set up for a result.
Topics
Australia cricket team
Pakistan cricket team
Australia sport
match reports
Share on Facebook
Share on Twitter
Share via Email
Share on LinkedIn
Share on Pinterest
Share on Google+
Share on WhatsApp
Share on Messenger
Source:
Google Australia
|
Netizen 24 Australia